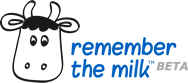 A while back I ditched Microsoft Exchange to save some money, which made it more difficult to sync my PIM between my desktop and handheld. Even though I liked having everything synced through Exchange, the cost was annoying for something so simple. With basic Blackberry service you get your email quickly, so it seemed like overkill to pay $20 extra a month just to sync tasks, calendars, contacts, etc. Shortly thereafter, Google released a nice Blackberry app to sync Google Calendar to the Blackberry Calendar, which replaced the Exchange calendar syncing for free. After that, the only thing missing from Exchange was synced contacts and synced tasks.
A few weeks ago, the folks at Remember the Milk were nice enough to build a new Blackberry app to sync your RtM tasks with your Blackberry. MilkSync effectively costs $25 a year since you have to have a pro membership to use the app. It's worth it.
Now the only thing missing is Exchange-less over-the-air syncing of your Blackberry contacts. You can get contact data if your contacts are in Gmail using the Gmail mobile app, but it doesn't sync with the Blackberry Address Book. Hopefully, Google will release a tool to do this.
Google will sell a lot of phones if they release similar tools for the Android platform.