Christmas would not be complete without 'A Charlie Brown Christmas'. ABC is showing it this Thursday along with a behind the scenes documentary: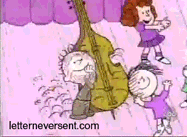 The classic half-hour animated Christmas-themed PEANUTS special, "A Charlie Brown Christmas," created by late cartoonist Charles M. Schulz, will air for the first time on the ABC Television Network on THURSDAY, DECEMBER 6 (8:00-9:00 p.m., ET). In addition to the original Emmy Award-winning special, a behind-the-scenes story of "A Charlie Brown Christmas," hosted by Whoopi Goldberg, will air immediately following the special.
On a related note, Jonathan Franzen wrote a nostalgic homage on 'Peanuts' in the New Yorker recently.
By the way I hope this neverending animated gif is not making your eyeballs bleed.